Click HERE to go to the Car Show Page!!!!
The first #NipClub car was a 1958 Edsel Sedan. At the time critics called it the worst car of all time
but now it's considered to have been so futuristic & advance that nobody got it. All
of the #NipClub staff love to borrow this car to run errands though!
 In the Tradition of Elvis, One of the first premiums that #NipClub started paying the staff with was gift cars. Our staff has grown so large that it's gotten hard to keep track of, and I know we have some that still have cars coming!!
Many of our customers have been getting cars of their own. And on this cold winter night, we thought
we'd have all of you bring your special cars, motorcycles etc. by and show them off to each other.
Whether it's a classic car, a new car, or anything in between, we'd love to see it. If you dont have a
car, our #NipClub crew can put you in a car. Just ask @flacatlady or @tinypearlcat or @thenascarkitty
to put you in contact with one of our graphics specialists. If you are looking for a certain type of vehicle,
we will try to find it for you as well.
If you'd like a photo of your car on a special page on the #NipClub blog, please send it to @TinyPearlCat of @TheNascarKitty by DM or email. To make sure it gets on the blog, please
try to have it to us by Tuesday Jan. 10th. Include the make and model if you know it. Thanks.
#Nipclub Car show page HERE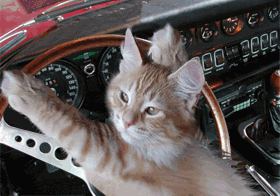 #NipClub Employee Gift Cars:
Our employees work so hard, and, of course all their tips go to our animal charities, so we buy all
of our employees cars. Many of them have several #NipClub gift cars, but the first is always such a big
thrill. Below you'll find a collage of the first #NipClub cars our employees got. Some of them have since
retired, but the cars are their's. They earned them and we appreciate them . ~~~@TheNascarKitty #NipClub Manager.
@LadyGreyFox Jaguar
@CathyKeisha Mustang Shelby
@MarioDaCat Corvette Stingray
@BunnyJeanCook Cadillac
@DuchessCrabtree Viper
@GeorgeTheDuck Cadillac
@AutumnTheDoxie Chevy HHR
@Hemmingwayscat Mustang GT
@SeattleP Porsche Carrera
@MaggieTKat Little Duece Coupe
@HollieCatRocks Lotus
@Kittehboi 57 Chevy Belair
Click HERE to go to #NipClub Car Show Page
@Meow_Girls Ford Thunderbirds
@Pandafur Corvette
@ParkerSKat Escalade with Matching Ducati Cycle
@ShaynaCat Bentley
@PumpkinPuddy Lamborghini
@Flicka47 Dusenberg
@Tildatoo Firebird
@KingTuttiFruiti Cadillac Woody
@Crybabrkit Mustang
@Dogstoyevsky Bentley
@PixelDoggy Porsche Boxster
@JinJinDoggy Mustang
@MeisRoxyThePug GTO
@Spike_Cat Land Rover
@TiggyBean Tony Stewart Nascar
@WinstonTabby Ferrari
@PepperPom Desoto Adventurer
@TheNascarKitty Chevelle Malibu
@TinyPearlCat Dodge Challenger



@RealFakeGator Aston Martin
@DanaPixie Cadillac Eldorado Biaritz
@BadAndy_KityKat '23 Ford T-Bucket
@UsThreeCoons Firebird
@KConlon1(Squeeker) in Jeep Wrangler
Way more cars
HERE