Please drop any $ you can into the tip jar to help the animals at Rocky Mountain Great Dane Rescue, Inc. Every penny helps! Thanks!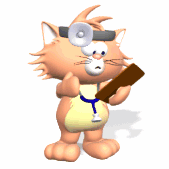 Doctor Shows on TV...everyone has a favorite. Whether its a medical doctor comedy or drama like Marcus Welby, Scrubs, House, E.R., Greys Anatomy, M*A*S*H, or a real doctor like
Dr. Oz, Dr. Phil, Dr. Laura,
or a different type of doctor completely like Dr. Spock or Dr. Suess or
Dr. Who....
or something goofy like Dr. Pepper or Dr. Mcgillicuddy, Dr. Love (from the Kiss song), or how about talking to animals as Dr. Doolittle?
#NipClub has a pawty in store for you.
And to get you in a medical mood, #NipClub will post important medical facts to help keep our animals safe. Click HERE for PET FIRST AID INFO and look for more pet safety tips throughout the blog.
@Bea_Bells & @CathyKeisha Help Dr. House solve a case
@MarioDaCat is the new Attending Physician on Scrubs!
#NipClub Pals in M*A*S*H
@BlazeTheNinja is Dr. Dolittle
No wonder he can talk to the animals!
@GizmoGeodog as Dr. Who
"Who's on 1st?" Who cares? At #NipClub, "Who's" in the Police Box.
In the #Nipclub universe
Dr. Walter Bishop is @kingtuttifruiti
@Pup_chloe is standing by
because somebody needs to keep an eye on the Doctors
They aren't Doctors, and they don't even play one on TV, but they sure have fun "practicing".
Dress up as your favorite Doctor, Nurse, or even a patient (like the kitty in the picture below). If you need help, please ask @RealFakeGator and his staff at #NipClub Outfitters and they can hook you up.....heck, I bet they could even hook you up to a nip IV if you ask. Of course your own natural fur is ALWAYS welcome at #NipClub too!
@TheNascarKitty is Dr. Love from the KISS song