To the Murder Mystery Blog HERE
@ShaynaCat has turned #NipClub Monthly over to (...gulp...) @DoggyMolly and her crew. It's going to be a Murder Mystery Pawty....which sounds perfectly common and normal, until you throw @DoggyMolly and @Lucky_GSD and their band of merry mischief makers into the mix.
A lot of fun activities will be rolled into the event, but the big questions are:
*Who is going to jail?
*How Much Structural Damage will be done to the club?
*Did @ShaynaCat do this willingly (Shayna Blink twice if you need us to rescue you.....)
Well, no matter what happens you are sure to have fun. We wont give away any big secrets this week at #NipClub Weekly, but look for links to check out and RSVP for the weekend, and get a taste of some of the fun to come.
Come Pawty with us Thursday at #NipClub Weekly to get a fun preview of what may happen next weekend.
Here's some things that have "happened" when @DoggyMolly and @Lucky_GSD have
"helped" in the past:
We asked @DoggyMolly to shovel snow one night...
@DoggyMolly tried to get in a round of golf while cooking us dinner.....
@DoggyMolly tried making us all Flaming Cocktails.....
Does anybody else see an alarming trend here?......
Of course, nobody can forget when Molly got @ShaynaCat a "free Stay"
at the Tower of London..... and the breakout we had to engineer...
@DoggyMolly's Bacon Tank was fun, until she learned to shoot
other things out of the cannon. ....shudder......
@GeorgeTheDuck doesnt have any memory of how
he ended up dressed in drag and being arrested, but
he does remember going out with Molly earlier that night...
A weekly event at the #NipClub Offices, when @TheNascarKitty
gets his weekly "@DoggyMolly Report" from the insurance company.
Everybody tends to end up in jail....for reasons they
can't explain, except that they partied with @DoggyMolly
So Whatever happens this week and weekend at #NipClub you can be sure it'll be fun, unpredictable and you'll remember it forever!!
See below for more fun previews of what may happen this weekend, and don't forget to set aside Saturday and Sunday to pawty hard!!
Oh no! There`s been a murder!
Whodunnit??
Could it be sweet, fun-loving Miss Pink? Who would ever suspect sophisticated, elegant Dame Shayna? Or one of the others?
And how did they do it? Say it wasn't the wine!!
And where did they do it? Did the catnip drive them to it?
Get yourself into detective mode and come find out this weekend.
If that isn` enough, come along as Sweet Moo and the Troublemakers take their
"One Step Ahead of the Law" Tour to Australia...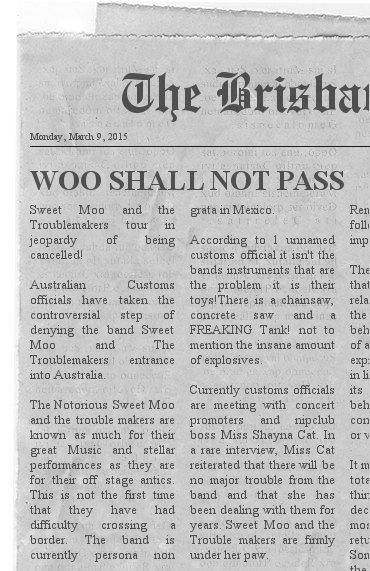 What could possibly have lead to all this?
Directions to this weekend's 24 hour pawty!
Use and watch #NCMM when tweeting to Join in.
To get to the Monthly pawty site go HERE