Welcome to #NipClub's Seattle Style Coffee Bar. All the great coffee drinks, plus deli sandwiches, great desserts and
pastries and of course a full service bar (because sometimes coffee just wont do it.) A great place to ring in 2014
It's been a long fun year at #NipClub. We've had some really great times. Now let's start the new year by relaxing in our #NipClub Coffee Haus Bar. A very comfortable place to sit, enjoy some great food and drink and relive those great #NipClub memories.
Our barktenders are also trained baristas, and will make anything your heart desires to drink, whether it's coffee, tea, or something harder. And don't forget the pastries & deli sandwiches!
Our DJ's will spin a wide variety of music from jazz, lounge, big band swing, to country, rock, techno, folk and dance. Every hour is different. But ALL will be great.
So join us, and be sure to tell everyone about the great times you've had at #NipClub these past few years, and we'd LOVE to hear your ideas for pawty themes this coming year!
\;
\;
#FriendsOfJuanValdez
@Sa
m
thewatcher @ThorTheGrey @RealFakeGator
@WinstonTabby @NancyCakeFace
Enjoy a complimentary CATpuccino when you come in. Sit down, warm up, chat with pals.
A special feature in honor of our UK pals, full Queen's Tea service upon request!
Want something stronger? Try a @Kittehboi Latte. (Hint: it's espresso, frothed Irish Creme Liquuer,
with a generous shot of Paddy Irish Whiskey and catnip. Served with butter creme cannoli.
The best pastries, hand created right in our #NipClub bakery.
Huge assortment of deli sandwiches, we can make them to order as well. Pictured in
the lower left side is Chef @TheNascarKity's special Caprese Sandwich. Fresh mozzarella,
tomato slices, sweet onion and basil with a light olive oil dressing on homemade bread.

A gift for everyone! Made by @RealfakeGator
Gator has worked on this since the very first day of 2013.
It is in PDF so it can be printed up on 8 1/2 x 11 inch paper.
You can print up one page at a time.
Also it can be loaded on a wand n taken into the UPS store
or any copy shop for printing up.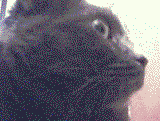 Wooooohooomeow! A very successful month and a huge help for them!
Thank you to everyone who Volenteered, attended and dontated. You rock!
To read more about Black Cat Rescue Boston
CLICK HERE
Fallow them on Twitter
HERE
Black Cat Rescue on
FaceBook