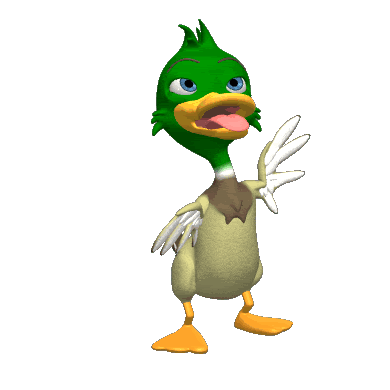 Remember those mildly mischievous, fabulously handsome daredevil rednecks we all loved on TV back in the good old days? You know, the boyishly cute blonde and the rugged handsome brunette? That's right! The DUCK Boys of Hazzard County...
Just two good ole boys,
Never meaning no harm.
Beats all you never saw,
been in trouble with the law
Since the day they was born.
Straightenin' the curves,
Flattenin' the hills.
Someday the mountain might get 'em but the law never will.
Makin' their way, the only way they know how.
Well, that's just a little bit more than the law will allow.
Just two good ole boys,
Wouldn't change if they could.
.
Fightin' the system like two modern day Robin Hoods.
@GeorgeTheDuck and his cousin Daffy Duck (better known at Bo Duck and Luke Duck respectively) just want to keep the family business (moonshining & bootlegging) running smooth, and keep their family out of jail.
Speaking of family, I think they're adopted, because most of the family do not seem to be ducks.....either way, this week at #NipClub we're gonna pawty down in Hazzard County, Georgia and help them "get rid" of some moonshine while we run interference with the law!

Luke Duck and Bo Duck ( Daffy & @GeorgeTheDuck)


Uncle Jesse Duck (@MarioDaCat) tries to keep the
boys in line, but it's a full time job!
Cooter (@MattieDog) keeps the Duck Boys cars running fast,
and occasionally sabotaged the police fleet he cares for too.
Keep checking the blog for more fun additions!
Test your Dukes of Hazzard knowledge...what pal is playing what part?
Here we go again!
@RealFakeGator,

M

arta, and a bottle of Jack Daniel's,

guard

the still
Please drop any $ you can into the Tip Jar to help the cats at Paradise for Pets Rescue Every penny helps! Thanks!
For Direct Donation Link for SmartPhones CLICK HERE
To Donate directly on the charity's site CLICK HERE
Please let them know it is a #Nipclub related donation so we can add that to our final total.
To read more about Paradise for Pets Rescue CLICK HERE
Paradise for Pets Rescue on FaceBook