Please drop any $ you can into the Tip Jar to help pets at Black Cat Rescue. Every penny helps! Thanks!
#Nipclub invites everyone to join us for our Thanksgiving celebration on Thursday November 24th. Even if you don't live in the US and celebrate Thanksgiving on this date, or don't celebrate the holiday at all, please stop by.
We're keeping our regular hours but will be giving our staff the day off. Don't be too surprised though if some of them stop by to serve food and drinks, or to play tunes. If no one is on duty, feel free to help yourself to the sumptuous buffet, the open bar and the free jukebox.
@Shaynacat has left her credit card in the hands of the very responsible @Lucky_GSD with her blessing, with instructions to spare no expense, with instructions to use it only in case of emergency, with instructions. Let's just say, Lucky has Shayna's credit card.
So... Come alone or invite your friends. We're leaving the doors unlocked. What could go wrong?
Thanksgiving 1964
#Nipclub runs out of tequila
Thanksgiving 2010
#Nipclub sets the record for most flaming shots poured at one time
Thanksgiving 2015
#Nipclub food fight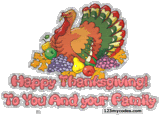 Every penny helps! Thanks!
For Direct Donation Link for SmartPhones
CLICK HERE
Learn more about Black Cat Rescue
HERE