This Thursday make sure you come to #NipClub and honor our great pal @Mulder_Cat with an X-Files/Sci-Fi Pawty. Maybe he'll even team up with you to solve one of the great mysterious of the universe with you. Of course you are welcome to come in your own fur, but we'd love you to surprise us and dress up for the occasion!!!!
This Thursday Enjoy a new
@Mulder_Cat's Blue Moon MeowGarita
Mulder's Signature Drink designed by @TinyPearlCat with input from @KatieBooCat, @Flicka47, @ShaynaCat, @LadyGreyFox and named by @MarioDaCat
Neon Blue Curacao, Bright Orange Cointreau, Everclear and NIP, served in an
Erlenmeyer Flask with a spaceship straw. You WILL see aliens after one of these.
Devastatingly Dapper Mulder_Cat
Our dear, strong, lovely, sarcastic, fearless wonderful friend @Mulder_Cat has left Earth for Rainbow Bridge. He's finally moved into that wild X-Files world of alternate universes & extra-terrestrial beings.
After a long day of Tweeting, Mulder passes out on the job.
This Thursday at #NipClub we will honor him with a Sci-Fi pawty that's out of this universe. Start thinking of what costumes you may want to wear, and any deep mysterious questions you want Mulder to help you answer.
But mostly just come have fun and honor a great anipal who has made us smile and laugh for so long, and who's bravery we just cant even begin to grasp the enormity of.
Thursday, Jan. 13, 2011, from 4pm to Midnight EST we will rock the galaxy for @Mulder_Cat, @Scully_Cat and @Staffpurrson. Please join us.
StaffPurrson said I should spend some time with a good book.
Mulder_Cat loves his Meow-garitas, but he'll make due if he has too.
"That was some gggoooodddd nip!!!!"
Mulder_Cat spends some quality time with his sisfur @Scully_Cat
Please join us Thursday Jan 13, and let @Mulder_Cat, @Scully_Cat & @StaffPurrson know how much we love and support them.

Thanks, @TheNascarKitty #NipClub Manager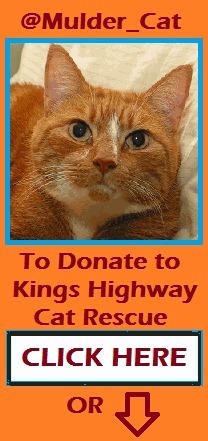 Please make your check out to Kings Highway Cat Rescue, mark it "Website
Donation" and mail it to:


Kings Highway Cat Rescue, c/o Avery + Avery, 5005 Avenue M, Brooklyn NY 11234