Please drop any $ you can into the Tip Jar to help pets at Black Cat Rescue. Every penny helps! Thanks!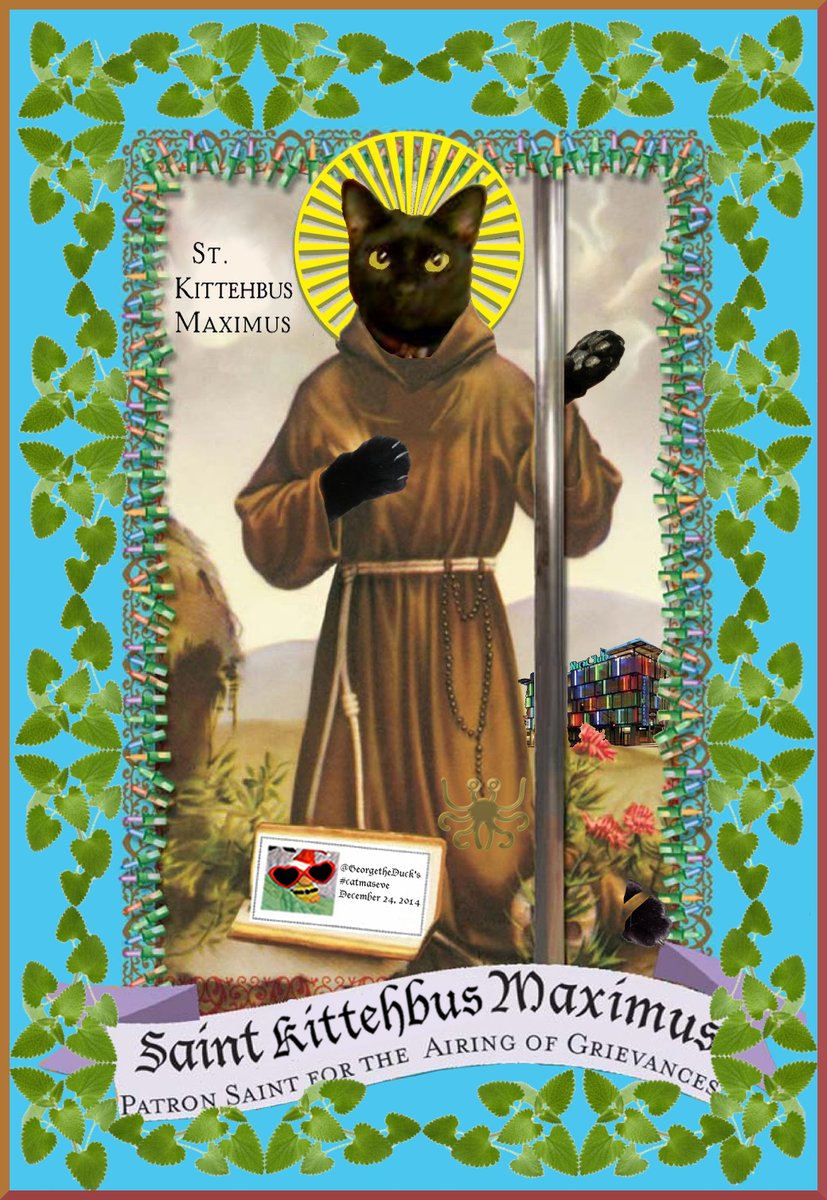 Mr.Breeze aka @Kittehboi aka Saint Kittebus Maximus, Patron Saint of
Airing Grievances will have a GRIEVANCE WITH YOU if you don't come
to pawty with us at #NipClub's Festivus Pawty. And you DON'T want that.
To view the entire "Festivus Story" watch the Seinfeld Episode "The Strike"
Click HERE for the entire video:
Still confused..here's a website that'll get you all the Festivus Knowledge you'll need:
Click for Festivus Information
Throughout the evening we'll do all the Festivus activities.....around the Festivus Pole, we'll have the airing of grievances (in good fun only please..teasing OK..attacks are NOT). AND of course the Feats of Strength, where the "head of house" gets wrestled to the ground and pinned. In this case, whichever Manager is on duty..., @TheNascarKitty, TinyPearlCat, @ShaynaCat, or @RealFakeGator...whichever one you can, step right up and wrestle them to the ground!!
What does one wear to a Festivus Pawty?...whatever they want, but it's often just whatever you would wear to a Holiday Pawty that you really aren't excited about...like that awful sweater you got from grandma, or some outlandish outfit, or street clothes...OR a #NipClub t-shirt!! Either way @RealFakeGator and #NipClub Outfitters probably has what you need. Just ask.

Many of you already got "terrible sweaters" for last years pawty, so you're already set.
A few scenes from previous Festivus Pawties at #NipClub:
@TheNascarKitty wrestles @KingTuttiFrutti in Feats of Strength!
@TheNascarKitty gets pinned by a #NipClub customer during Feats of Strength
@3phibotticelli`s grievances are weather related
@NancyCakeFace
is dressing in her Festiv
u
s finest!
The Traditional FESTIVUS feast:
Print and Clip out this coupon and hand out as Christmas Gifts!
(Don't give to people you actually want to talk to again..MOL)
(Note: for FESTIVUS newbies, there IS no "Human Fund"...George Costanza gives these cards

as gifts because he is cheap and doesn't expect he will get caught. MOL.
Please drop any $ you can into the Tip Jar to help the pets at
Black Cat Rescue
Every penny helps! Thanks!
For Direct Donation Link for SmartPhones
CLICK HERE
Directly to Black Cat Rescue on their site
Click Here
Please let them know it is a #Nipclub related donation so we can add that to our final total.
Black Cat Rescue on FaceBook
HERE
Black Cat Rescue on Twitter
HERE
Learn more about Black Cat Rescue
HERE