Please drop any $ you can into the Tip Jar to help pets at Paws in Prison Every penny helps! Thanks!
First Take a moment to remember @PixelDoggy
@PixelDoggy is a longtime #NipClub employee and friend. She and her sisfur @JinJinDoggy are among our original barktender staff, and also worked hard in our PR department.
On Sept. 21st, 2015 @PixelDoggy joined her beloved sister and a lot of other pals at #RainbowBridge. #NipClub offers our prayers and comfort to the family, and hopes that we will continue to see our great pal from OTRB. Please enjoy this pictorial history of @PixelDoggy, and feel free to leave comments below about your experiences with Pixel.
@PixelDoggy being welcomed to #RainbowBridge by her beloved sisfur @JinJinDoggy
We're a couple weeks into America's NFL Season. And many of you are excited for your favorite teams. FOOTBALL is a big thing in the United States. We realize many of you are from outside the US and may not have a favorite NFL team, in that case, we'd LOVE to have you come and explain the favorite sports of your country. I know Canada has the CFL, and Europe has Rugby, as then there's Aussie Rules Football. Whatever you like, just make sure to come to #NipClub and enjoy the company of your favorite fellow sports fans.
If you're not really a sports fan at all, that's fine too. We know you're a fan of our great Drinks, Noms, Music and atmosphere.
So come dressed as your favorite football player, or as a fan for your favorite team, or just wear your natural fur and pawty hard!! Either way, come enjoy the fun. If you need help dressing, #NipClub Outfitters has the finest in NFL gear just ask @RealFakeGator so he can have his staff help you!!
We will have the BEST in tailgate pawty foods, cold drinks, and I wouldn't be surprised if a game of parking lot football started up sometime during the pawty.
Come as a favorite Classic NFL Player
@PumpkinPuddy ready to cheer for the Broncos!
@PepperPom cheering for the Cowboys
Show yourself making a famous play!!
Come as your favorite Current Player
Come as a hardcore fan...OR just come as yourself!!
Maybe a mascot

!


Packer fans @mariodacat and @katiebella2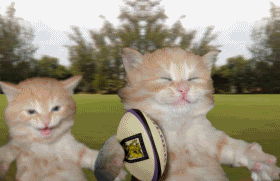 Printable PDF to a group photo from last weeks Pirate night
CLICK HERE
If you attended but don't see yourself here please let TinyPearlCat Know.
Please drop any $ you can into the Tip Jar to help the pets at
Paws in Prison
Every penny helps! Thanks!
For Direct Donation Link for SmartPhones
CLICK HERE
Directly to
Paws in Prison
on their site
Click Here
Please let them know it is a #Nipclub related donation so we can add that to our final total.