Movies, TV and books lately seem to have a very common theme. Superheroes. To us at #NipClub all of our anipal friends are SuperHeroes because you keepyour humans safe, warm their hearts, lower their blood pressure, some of you are trained to help them. And, most important of all, give them unconditional love.
But wouldn't it be fun to spend a night being a Superhero? Well this week at #NipClub you can be the SuperHero of your choice. So dress up as your favorite SuperHero and show us your special secret powers, or create a new SuperHero.
Of course SuperHeroes wouldn't have anything to do without a Super Villain, so maybe you wish to be a Super Villain for an evening.
Or just come as you own furry self, because as I mentioned earlier, you are ALL SuperHeroes in our eyes.
As if managing #NipClub wasn't enough, @TheNascarKitty spends his evenings
making sure all of the #NipClub locations stay safe as CatMan....err I mean BatMan
@TinyPearlCat spends 8 days a week managing #NipClub, being an
Graphic Artist, IT specialist & super Barktender...but has found
time to protect you at BATGIRL....OK, we have BatMan and
BatGirl....we need a Robin....who could be their Robin?.....
Of course....#NipClub Outfitters Manager, @RealFakeGator
must be Robin....although rumor has it that he isn't really
super happy about it. But we let him drive the BatMobile
and he forgot all about his embarrassment.



Barktender @kconlon1 prepares to deliver a drink superhero style.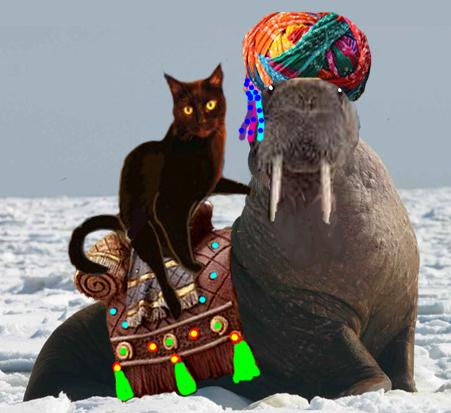 @SantasCat & @RockStarWalrus are already Super Heroes
working as Pratman & Blobin of the Order of Flipper & Claw!
(See below)
@germanshorthair`s Banjo
Chef Tiger Tommy (@TheNascarKitty) makes some
giant donuts. Can you finish one?
@Kittehboi attempts to nom a Giant Cheeseburger.
He may need your help. Order one up!!
We had to hire extra chefs to make our Giant
Ham, Cheese and Mushroom Omelette.
Two Sausage Patties stuffed with Ham & Cheese, Topped
with Fried Eggs. It's the "Coronary Breakfast"